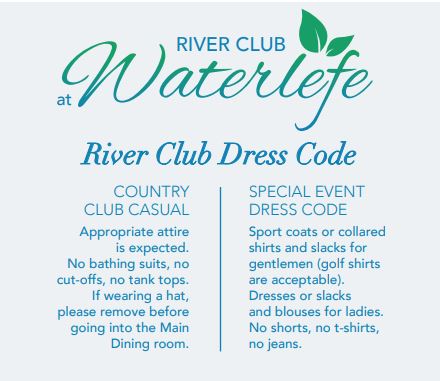 RIVER CLUB SMOKING POLICY
For the benefit of all River Club patrons, smoking or vaping (e-cigarettes) is not permitted inside the River Club building, within the screen-enclosed veranda, at theTiki Bar, or on the pool deck.
All smoking and vaping is restricted to the designated smoking area.

DESIGNATED SMOKING AREAS
1. River Club porte cochere, to the left of the front steps
2. East end of The Pointe, at the foot of the pool pergola stairs
---
RIVER CLUB EVENT CANCELLATION POLICY
Attendees canceling a reservation after established policy hours, as noted within event advertisement for River Club special events, will be charged in full for the event.
If attendee can find replacement or the reservation is filled from a waiting list, the cancellation charge will be waived.
---
CELL PHONE POLICY
In an effort to be considerate of all residents, residents and guests are asked to silence their phone while in the River Club. This includes the members room, lounge, main dining room, lobby & screened veranda. Speaking on mobile phones in these areas is prohibited. If you must answer or make a call, please step outside of the River Club.